Orpheus Music Project partnered with Minnesota Community Care to bring you SONGBREAK. Proceeds from your ticket purchase will support Minnesota Community Care in its mission "Strengthening the well-being of our community through health care for all." and to help support future concerts of this kind.
SONGBREAK is a virtual vocal concert recorded by the Orpheus Music Project team at Wild Sound Studio with videography by CallSign51. It is filmed at the beautiful Gideon S. Ives Auditorium and features classical and traditional songs and arias, performed Under the artistic direction of Craig Fields, by singers Brian Haase and Riley Cardona with their pianist, Bryon Wilson. With TV personality Peter Moore as host and interviews with the performers and creators, you'll enjoy a unique and inspiring musical event.
Orpheus Music Project uses the video-on-demand services provided by Vimeo. Since 2004, Vimeo has grown into one of the leading services in providing video streaming, video-on-demand, creative collaboration and other services. They support over 200 million viewers, more than 1.5 million paid subscriptions, and have hosted more than 100 BILLION video views in over 190 countries.
Vimeo supports various TV apps, allowing you to enjoy our concert just as you would any other movie or show. AppleTV (4th gen or newer), Android TV, Amazon Fire TV, and Chromecast. Search for "Vimeo" in the app store of your favorite TV app, then follow the instructions to gain access to our concert video.
We are confident you'll find the purchasing and viewing experience easy as well as entertaining.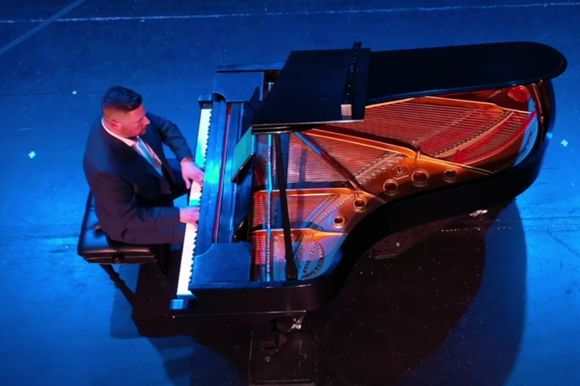 Ticketing on Vimeo
Video-on-demand is similar to renting a movie on Amazon Prime or Apple TV. You'll be able to view it any number of times over 48 hours on nearly any device such as a laptop, home computer, tablet, or even a phone. We strongly recommend viewing the concert on a larger screen supported by excellent sound. Turn up the sound to feel the full emotional impact our musicians bring to the performance!
You may click on the trailer video above or use the button to the left to visit the Vimeo ordering page. In order to facilitate your viewing and to allow you to return to the viewing page multiple times, Vimeo will ask you to create an account. That is simply an email address and password allowing you to visit Vimeo for viewing.
You'll be asked for a payment type and allowed to enter a discount coupon code if you've received one. Upon completion of your order, you'll be all set to watch the concert.